Hawaiian Style Pineapple Ham Silver Turtles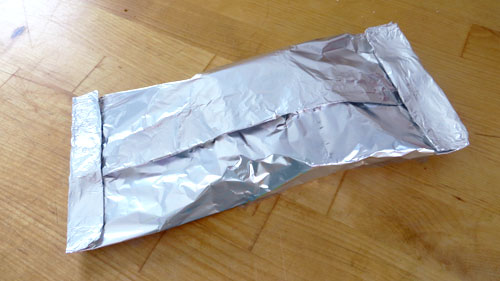 Instructions
Put butter and brown sugar in the bottom of the silver turtle.

Layer ham and pinapple into a stack

Top with splash pineapple juice from the can and a dash of pork rub.

Cook 6-8 miniuts on each side directly on the coals. They are done when warmed though. Add cheese and a bun for a great sandwich if desired.
Note
Silver turtles are a great introduction into campfire cooking. A roll of heavy-duty foil is a scout's best friend when it comes to kitchen patrol duty. It's a go-to cooking utensil for cub scouts and Webelos alike. They are great for patrols or large groups that may have multiple dietary restrictions because the meals can be customized easily. That being said it doesn't always have to be ground hamburger patties and bbq sauce. There are two ways to cook this. You can cook it in individual portions or do a whole sliced ham loaf with pineapple stuffed between the slices. 
To patrol cook, preheat your Dutch oven to 350 degrees. Slice pork stopping about a half inch before cutting all the way through (this is called Hasselback style). Layout a large sheet of tin foil and add some butter and brown sugar to the center. Put your ham on top with the slices facing upwards. Cut each pineapple ring in half and place them between the ham slices. Top with the juice from the canned pineapple and sprinkle pork rub on top. Wrap everything up and place it in a dutch oven. Cook at 350 degrees for about 45 minutes. Done when warmed through. Serve this with a vegetable fried rice and you will be on the island in no time brah. 
Ham, Pineapple